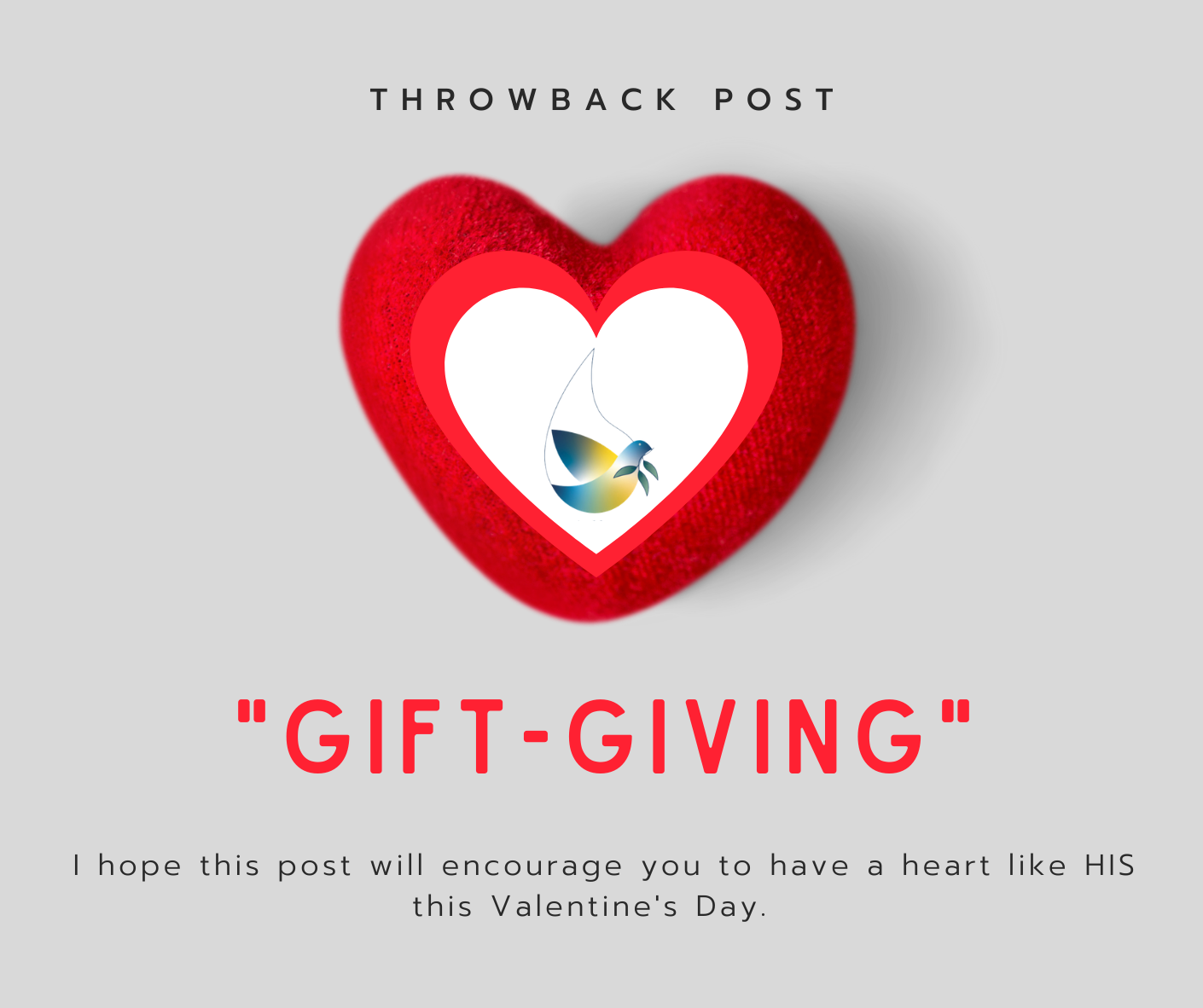 I have always struggled with buying gifts. I think I have finally figured out why, but let me share a few thoughts with you first. Buying a truly meaningful gift is an art and meaningful gift ideas will be easy if you know a person well. Maybe that is why flowers have always offended me as a gift. Although this is not always the case, flowers can be the epitome of 'I didn't take time to think of you nor of what you like, nor did I take time to think about what makes you smile or what have you been longing for…so is something generic that all women would love to get as a gift because all women like flowers.' Now, if you are a woman who truly likes flowers, like my mother, then flowers can also be a truly thoughtful gift.
Thoughtfulness is the important part. Thoughtfulness conveys that time was taken, and I, like most human beings, feel special when you take time to think of me. A generic gift given in times of famine, war and other life situations, can still convey the meaning thoughtfulness in other ways by the giver. Ultimately though, a gift should always have this one thing at its core, my thoughts toward the receiver.
Is there something else to this art of gift giving besides the tangible object? What if the purpose of gift giving is not the gift? What if intent trumps the gift? Children provide the best example of this. Children can give a gift of any kind or condition and it will be received as the most wonderful and treasured item in the world. It does not matter if they picked it up off the side of the road, it is treasured. The gift giving is not in the object given obviously. When a child makes something, they put their heart and soul into it, however, that creation, isn't always pretty or useful, but when they give it to someone, joy floods the receiver. Instinctively the heart floods with joy for being picked rather than the value of the gift itself. The gift may be flawed or fall apart easily. It may be misshaped and unrecognizable. It may hold no monetary value, yet to be chosen as the recipient of the gift greatly affects the heart. The intent surpasses the tangible.
Maybe that is why my heart just melts every time I read this:
Agape; love, a word not found in Classical Greek but only in revealed religion. Translated charity (1 Cor. 13:1) meaning benevolent love. Its benevolence, however, is not shown by doing what the loved person desires but what the one who loves deems as needed by the one loved; (e.g. For God so loved [egapesen] the world that He gave…John 3:16). He gave not what man wanted, but what man needed as God perceived his need, namely His Son who brought forgiveness to man. God's love for man is His doing what He things best for man and not what man desires. It is God's willful direction toward man. But for man to show love to God, he must first appropriate God's agape, for only God has such an unselfish love.
Agape is derived from the word Agapao, which means: to love, indicates a direction of the will and finding one's joy in something.
In another place, Agapao was further explained as such:
agapáō – properly, to prefer, to love; for the believer, preferring to "live through Christ" (1 Jn 4:9,10), i.e. embracing God's will (choosing His choices) and obeying them through His power. (agapáō) preeminently refers to what God prefers as He "is love" (1 Jn 4:8,16).
With the believer, agapáō ("to love") means actively doing what the Lord prefers, with Him (by His power and direction). True agapáō ("loving") is always defined by God – a "discriminating affection which involves choice and selection" (WS, 477).
How can I refuse such a gift? A gift of the highest intent…for me. My heart floods with joy. I am the one He picked for His gift. He thought of me. It wasn't a quick thought or a frivolous thought. It was a gift given with much thoughtful consideration.
We treasure the stories of those who give to others, even to their hurt, harm or demise. Yet, there is no sacrifice a mortal man can make that compares to the sacrificial gift from God. It is a gift with very carefully consideration…for the life of Jesus was involved. It is a gift with unwavering benevolence…for the life of man was involved.
It is God's willful direction toward man.
He gave not what man wanted, but what man needed as God perceived his need, namely His Son who brought forgiveness to man.
God gave me a gift that encompasses more than a tangible object that has to be displayed, cleaned or worn. I like to give gifts and I like to receive them, but this gift of God makes every other gift pale in comparison. Let's not forget the true meaning of gift giving as initiated by the Father, and with His example, He asks me to give gifts in the same manner.
"A new commandment I give to you, that you love one another: just as I have loved you, you also are to love one another. By this all people will know that you are my disciples, if you have love for one another." John 13:34-35
"This is My commandment, that you love one another as I have loved you." John 15:12
"This is My command to you: Love one another." John 15:17
"Be devoted to one another in brotherly love. Outdo yourselves in honoring one another." Romans 12:10
"Be indebted to no one, except to one another in love, for he who loves his neighbor has fulfilled the Law." Romans 13:8
"Love does no wrong to its neighbor. Therefore love is the fulfillment of the Law." Romans 13:10
"The entire Law is fulfilled in a single decree: "Love your neighbor as yourself." Galatians 5:14
"…and walk in love, just as Christ loved us and gave Himself up for us as a fragrant sacrificial offering to God." Ephesians 5:2
"Now about brotherly love, you do not need anyone to write to you, because you yourselves have been taught by God to love one another." 1 Thessalonians 4:9
"This is the message you have heard from the beginning: We should love one another." 1 John 3:11
"And this is His commandment: that we should believe in the name of His Son, Jesus Christ, and we should love one another just as He commanded us." 1 John 3:23
"Beloved, let us love one another, because love comes from God. Everyone who loves has been born of God and knows God." 1 John 4:7
"And love consists in this: not that we loved God, but that He loved us and sent His Son as an atoning sacrifice for our sins." 1 John 4:10
God's gift to you may not seem like He picked something out for you specifically, but the truth is, God has picked out a gift for you specifically that is needed by every person on the earth. He, before the foundation of the earth was laid, decided to give man what he needed, not what he desired. Our desires are fickle and may reek of selfishness, therefore, I will defer to my Father's benevolence toward me. He put His heart, soul and Son into my gift, into your gift. Accept it, treasure, but more importantly, it is a gift that is meant to be shared. No stress in regards to how long to keep it or where to display it. Just live it and give it, every chance you get.